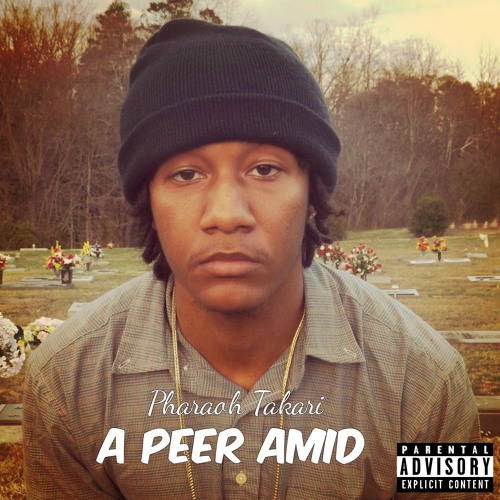 It seems that a lot of the upcoming youth are trying to be rappers. So what separates seventeen year old Pharaoh Takari from the rest of the pack? It could be the fact that isn't rapping about cliche' subject matter, or that his skill far surpasses his age. Though it just may be that he doesn't just rap, he also produced every track on A Peer Amid which puts him levels ahead of many young internet rappers.
Takari doesn't use his age as a crutch,in fact he is very confident in his musical ability and for good reason. The beats you'll hear on A Peer Amid have a cohesive sound and they really stole the show. Takari stated that the initial beats for the email got scrapped because he simply wasn't satisfied. The overall sound is comprised of a little jazz, some blues, pop, rock, and r&b. These elements create an up tempo album for the most part and there isn't much wrong with his work behind the boards, Takari has a specific sound on this album and it works. In the future, however, he will have to evolve his style and sound into it's full potential, but the young emcee has nothing but time to keep coming with new flavors for the listeners to enjoy.
While the mature production style was the biggest surprise on the album, Pharaoh Takari also possesses a fair amount of lyrical talent. His flow shows flashes of greatness, like on the first track "Better View" he does a great job at getting the listeners hooked, but on the track "Solitude" he uses a deep voice effect on the entire track and it makes for a difficult listen.
That being said, his lyrics really aren't that bad by any standards. He uses more of the storytelling lyricism rather than being a punchline rapper, though both methods are present on the album. It's commendable anytime a new comer into the industry chooses to stray away from what is most popular and Takari did just that.
In terms of the vocals listeners will hear on A Peer Amid, Takari does lack consistency, but it is evident that he has game and this is shown by his storytelling lyrics, and his streaky flow. The production stole the show and Pharaoh deserves some recognition for taking the time to make his own beats rather than doing what many "rappers" his age do and all that consists of is taking instrumentals off the internet and rhyming over them. The best track on the album is "Toucan Bill" and Takari starts the album with his best work, and finishes with his best. The tracks in between aren't anything that will standout and a few of them do take away from the albums overall quality. Thirteen tracks, seventeen year old rapper, and one solid album. Check out A Peer Amid and comment what you think!